We allow the sharing of synthetic voices designed using our voice designer tool, as well as professionally cloned voices. Sharing your voice is quite simple.
To do so, go to the VoiceLab and find a card for the voice that you want to share. In the upper right corner, you will see the share button.

Click on this button, and a popup with the toggle for sharing will appear. Before sharing, make sure to read through all of the information provided, as it includes some details that can be good to know.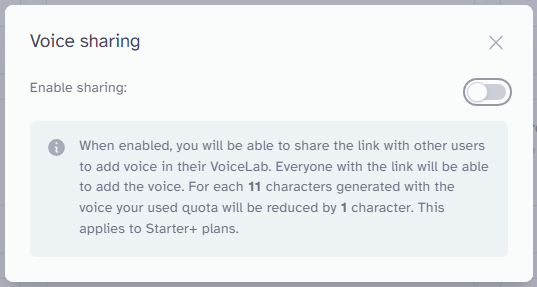 This label will appear slightly different depending on whether you're sharing a synthetic voice or a professionally cloned voice.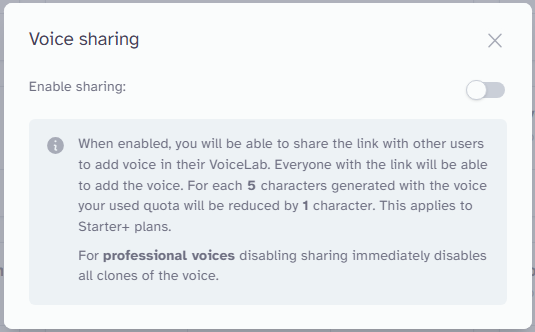 You have two options when sharing a voice. You can either share it using the link which you can give to your friends or colleagues, and no one else can add the voice except those who have the link. If you're sharing a professionally cloned voice, you will also need to add these people to the whitelist of emails so that those accounts are the only ones that can add the voice. This is not needed for synthetic voices.
Additionally, you can click "Allow discoverability in Voice Library." If you allow this, it means that anybody can add your voice from the Voice Library. However, first, the voice needs to be reviewed for moderation so please follow the naming guidelines. You can find them here.
Once shared, and people start using the voice, you can find a few stats in this popup.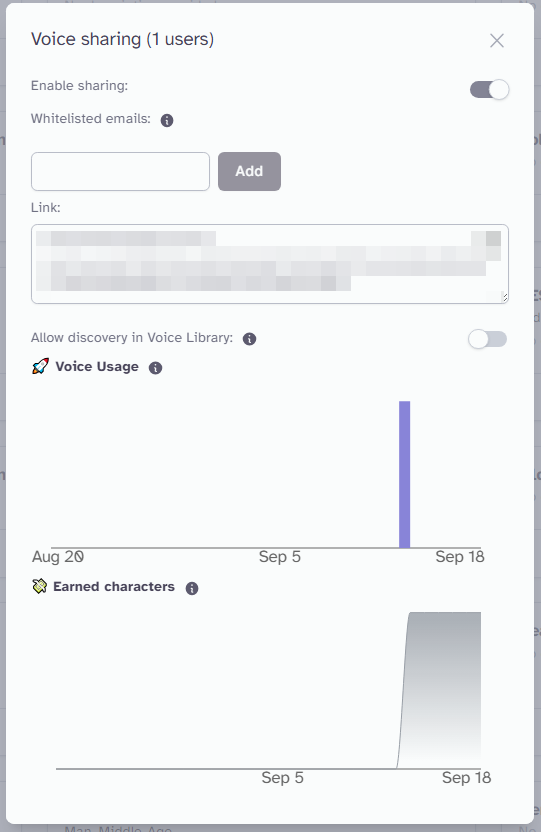 When sharing a synthetic and generated voice using all tools, once a person has added the voice, it will remain in their account until they choose to remove it, even if you stop sharing the voice. However, if you're sharing a professionally cloned voice, the voice will stop being shared with other accounts as soon as you stop sharing the voice.
Depending on whether you share a synthetic voice or a professional voice, you will earn different amounts. For synthetic voices, you will earn 1 free character for every 11 characters generated using your voice. For professional voice clones, you will earn 1 free character for every 5 characters generated.
However, please keep in mind that you will stop earning free characters once you reach your subscription's maximum character quota.